OKAY I DIE DIE.
RICO BLANCO
PERFORMING IN MY ALMA MATER.
THIS HASN'T HAPPENED SINCE, 2002? I MISS MY OTHER BOYS. >.<
Hi
omgfangirl
!!
ANYWAY, I HAVE TO PLUG SINCE THIS IS
MY
ALMA MATER WE'RE TALKING ABOUT. IF THERE'S ANYONE IN MY F-LIST WHO'S INTERESTED IN GOING, BUY THE TICKETS FROM ME! PM ME HERE, summerwithrain@hotmail.com.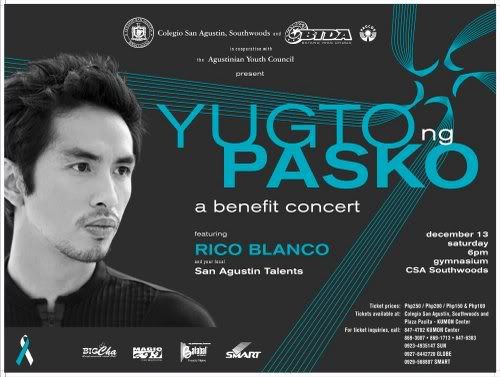 December 13 2008
Saturday 6pm
Gymnasium
CSA Southwoods
Ticket Prices:
P250 / P200 / P150 & P100
Hi love, it's been a while. Schools been a bitch thats why I couldn't come to your gigs. But I'm so going to this. ♥